Notary Services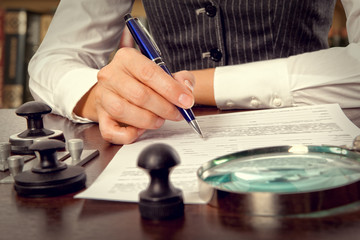 A Notary Public is considered a public officer who is mandated by law to provide public service in such areas as estates and deeds; powers-of-attorney; witnessing; and international business. The main functions of a Notary Public are focused on the undertakings that require notarization.
Administration of oaths, affirmations, and affidavits.
Declarations and legal authentication of documents.
Acknowledgment of deeds and foreign money drafts.
Execution of specific official acts in the jurisdiction.
Notary Stamps
There are a great many signed documents that require notarization, in order to be regarded as official and valid. These might include birth certificates and marriage documents, and will almost always be included government applications, documents, and claims.
Travel Consent
Travel Consent letters are often required by Canadian immigration authorities when entering the country or re-entering. Having a consent letter will simplify travel, and in many cases will avoid confusion and problems when travelling and/or entering Canada.
Official Letters
Canadian authorities highly recommend that official letters (including travel consent letters) be duly certified by an authority like a Notary Public. This will help assure officials like border and immigration officers that the document is valid, legal and binding.
Certified Copies
When original documents cannot be sent out, it's possible to verify a copy. A Notary Public can confirm that the documents are an authentic copy of the original. This is referred to as a Certified True Copy – and it's a document that's acceptable for submission.
Letter of Invitation
A Letter of Invitation can help to assure border and immigration officials that a person will not overstay or work illegally in Canada. While this letter will not guarantee that any particular visa will be issued, the content and intentions in the letter must be true.
Commissioner Oath
There are some official documents that can be Commissioned as an alternative to Notarization. In this regard, Commissioners of Oaths are mandated by the Province of Ontario to oversee, as well as witness the official swearing process of oaths and/or declarations.
Affidavit Documents
An affidavit document contains testimonies and declarations that a person swears under oath to be true. These are often required for the purpose of court evidence, and in immigration hearings where a full set of facts and figures are required to support a case.
Notarized documents are often required for immigration petitions in the Federal Court of Canada. During the various hearings and appeals that take place (visa applications, refugee claims, etc.), officially notarized documents are vital to support an applicant's submission.
Beyond the legal court system, there are also government departments such as the Immigration Appeal Division that usually require valid documents whenever a petition is in process. Clearly, documents that are Notarized will serve to better validate an application.
With regard to immigration, citizenship and permanent residency issues, the need for Notarized and/or Commissioned documents is essential - it all makes for a more streamlined process.
VISA applications and temporary VISAS for families
Work Permit and Study Permit application requests
Permanent Resident, Citizenship, and Refugee claims
Compassionate/Humanitarian immigration programs and appeals